S-00-10

Home Site Map - Steps - Preparations -
Obtain Building Permit
An involved process that needs to be done as per the defined procedure
Local procedure
Each local building department has a set of rules and procedures that need to be followed to apply for a building permit. In my area (King County, WA) they provide a helpful document that describes the procedure and lists all the things needed for the submission. Most of this page has information extracted from that King County document (thanks King County building/planning department).
Building Codes
There are two different building codes under which a house might be able to comply. They are as follows:
• The International Building Code (IBC)
• The International Residential Code for One- and Two-Family Dwellings (IRC)

A residence must meet certain criteria to be eligible to comply with the IRC. Most single family detached homes will be eligible. Dwellings greater than three stories in height are required to comply with the IBC (although what constitutes a story is complicated). It is generally thought that compliance with the IRC is easier and less expensive than compliance with the IBC. For example, when complying with the IBC, all residences are required to be fire sprinklered.

The intent of the IRC code is that one code book will have all the necessary requirements for residential construction. For example, applicable mechanical requirements are found in the IRC, as well as building planning and structural requirements.
The IRC includes prescriptive structural provisions - where the code prescribes each specific condition which must be met. When a residence does not comply with the prescriptive structural provision (and it won't if it's not a regular wooden house), or you choose to have a structural design created by an engineer or architect for the specifics of your house, the you must use design provisions in the IBC. When a residence cannot meet prescriptive structural requirements of the IRC, structural calculations are done in accordance with the IBC, without triggering the non-structural provisions of the IBC.
The bottom line is that you will most likely to build using IRC rules except for the structural aspects where you will use a licensed structural engineer to design the structure using IBC rules.
Each proposed project will be reviewed for compliance with the IRC, or the IBC, along with other applicable codes which are...
International Mechanical Code;
International Fire Code;
County Code;
Critical Areas Code and Administrative Rules;
Drainage Ordinance;
Road Standard Ordinance;
Other Ordinances and Policies Adopted by your County;
Shoreline Management Act;
State Energy Code;
Other Ordinances and Policies Adopted by your State.
More info and notes on building codes can be found at "Techniques - Building Code".
Septic and Well
A new single-family dwelling that will require the installation of a NEW septic or well system is required to apply for a Critical Area Designation (CAD) prior to seeking Health Department approval. You will only be allowed to make you building permit submission for your house after approval of both the Critical Areas survey and Health permit for the septic or well. On a case by case basis, your local building department may consider a waiver of this requirement if you have otherwise demonstrated that critical areas issues have been adequately addressed.
Required items in planning permit submission
Summary
In order to obtain a permit you must provide the following:
Affidavit for Application Form;
Property Tax Account Number;
Legal Description of Property (three copies);
Proof of Legal Lot;
Site Plan (or Plot Plan) (on DDES template, to an engineer's scale, with no broken lines;
Working Drawings (See text for requirements; two copies.);
Information on Heating Systems, Fireplaces and Stoves;
Critical Area Designation Approval (If installing new septic or well system)
Certificate of Sewer Availability and Related Documents;
Certificate of Water Availability and Related Documents;
Valuation for Special Site Items;
Fees for Reviews Completed Before Permit Approval;
Contractor's Registration Number OR Affidavit Regarding Contractor Registration;
Miscellaneous.
You need to use the forms supplied by your local planning office. Here are the details for my area (King County, WA)...
Forms are available via the DDES Web site at www.kingcounty.gov/permits , the DDES Customer Information Line at 206-296-6600, and in the DDES Permit Center in Snoqualmie , WA.
Note: Electrical and plumbing permits are issued by the Washington State Department of Labor and Industries and the Seattle-King County Department of Public Health, respectively.
Here is more detail on the individual items in the list of things to submit,,,
Affidavit for Application Form
The Affidavit of Application establishes the scope of work, the property owner, and/or the agent, as well as critical areas compliance and financial responsibility. This form is required for all building permit applications. Make sure you verify that the owners and applicant/agent's names, addresses and telephone numbers are accurate. This information is required in order to make contact during the application process. The address is used also for notification that the permit is ready for pickup.
Property Tax Account Number
This is an identifying number assigned by the Assessor's Office. It is also sometimes referred to as the Assessor's Parcel Number (APN) or just the Parcel Number. The building department uses this number to access information about the site, including verification of current property taxes. Please keep in mind that permits will not be issued unless taxes are current.
Legal Description of Property (Submit three copies.)
This describes the parcel of land identified by the Property Tax Account Number, or Parcel Number. The legal description is identical to the parcel found in the Assessor's maps and the required plot plans. It is acceptable to submit a legal description of the parcel as it appears on deeds, real estate contracts, and statutory warranty deeds, or in records at the Assessor's Office. Legal descriptions are used to check the dimensions of a parcel and also to verify the accuracy of the site plan. It is a good strategy to list the legal description directly on the site plan if there is any doubt.
Proof of Legal Lot
Before submitting an application for a building permit on a lot, a lot must meet the requirements of a Legal Lot, as defined by your local county. Most commonly, for unplatted lots created prior to a specified date (eg 1972 in my county), a copy of the deed, warranty deed, or other real estate conveyance showing the current lot configuration is required. For lots created after this date, a copy of a recorded plat, short plat or boundary line adjustment is required. You may also be required to provide proof of legal access. The proposed site plan must be consistent with the legal description of the property.
Site Plan/Plot Plan (Submit three copies.)
The site plan is a graphical presentation of an entire lot as seen from an aerial view. Three copies of the site plan are typically required for building permit applications. The site plan must be submitted on the template provided by your local county.
See "Draw Plot Map" for details of what is needed on your submitted plot map.
Working Drawings (or Blueprints, Plans, Drawings and Prints)
The working drawings are graphical pictures of the structure you are planning to build. Two sets are typically required - one for the field and one for the public record. These working drawings are used to provide the local building department with information on how applicants plan to construct the proposed house. Since the construction of most buildings is wood frame, the sample drawing provided by King County is wood frame. If you plan to build a log house, a pole building or a metal, masonry or concrete structure, calculations and plans stamped by a licensed Engineer will most likely be required. If you plan to build on a steep site, propose to build higher than two stories, or plan to use unconventional materials, you would be wise to have a pre-application meeting with the building official. The building official will likely require additional drawings, details, sections, or stamped engineered calculations and/or details for any building or site.
See "Techniques - Blueprints" for details of the required blueprint drawings.
Type of Heating System, Fireplaces, Stoves
This information is required to be included in the plans to check compliance with the mechanical requirements of the IRC or the International Mechanical Code and state Energy Codes. These forms are available for Residential Prescriptive Options that meet the current Energy Code, or you will provide your own energy calculations.
Critical Area Designation Approval
For those proposed residential permit applications which require installation of a NEW septic or well system, a Critical Area Designation application is required from your local planning/building department prior to seeking health department approval of the septic or well system.
Sewer Availability
If you are on a public sewer, a Sewer Availability Certificate (SAC) completed by the local purveyor must be submitted at application. If a public sewer is not available to your site, a copy of a septic design approved by the Seattle-King County Department of Environmental Health is required. The Sewer Certificate or approved septic design informs the building/planning department that applicants meet minimum health requirements for a proposed project.
Note For properties NOT served by a public sewer In Urban Areas, you need to determine whether your property is located within the urban or rural growth areas by calling the building/planning department with the Parcel Number. Properties within the urban area and not served by public sewer must provide a Certificate of Future Connection and proof, in the way of a SAC, that public sewer is not available. A Certificate of Future Connection is an agreement between the property owner and the local sewer purveyor promising that when sewer becomes available, the homeowner will hookup without protest.
Water Availability
If you have public water, a Water Availability Certificate (WAC) completed by the local purveyor must be submitted at application. If public water is not available, you are required to submit a copy of a Recorded Well Covenant. The Water Availability Certificate or Recorded Well Covenant informs the local building/planning department that you meet minimum health requirements for the proposed project.
Valuation
There is some interpretation required with this one. It's best to ask at your local building/planning department what they would like to see here. Here's what my local building/planning department asks for...
Provide valuation data for the following:
1) Fences;
2) Docks and Piers;
3) Areas of Interior Remodel;
4) Other

Applicant is to provide dollar values for the above. Dollar amounts should be based on fair market value for materials and labor. For remodels, applicants must estimate the cost of work and the current replacement cost of the structure.
Fees
Non-hourly review fees will be collected at permit application. Site review fees, some of which may be hourly charges, will be collected later. For complex sites, a Project Coordinator may be assigned to the permit. Remaining fees such as inspections and mitigation fees are collected at permit issuance.
Contractor's Registration Number OR Affidavit Regarding Contractor
Registration is not required until permit issuance. If you are not your own General Contractor and are hiring one then they must be registered with the State per State Law. If you are your own General Contractor, an Owner Affidavit Form is available upon request from your local building/planning department. An owner can be an owner contractor when building on his or her own property subject to completing a notarized affidavit.
Miscellaneous
1. If the property is in a critical area, you may be required to submit a geotechnical or wetlands study of the property.
2. If critical areas exist on the site, you will be required to file a notice on the title to their property with the King County Records and Licensing Services Division. The Critical Areas Notice on Title states that critical areas and their associated buffers are present on the property, that the King County Critical Areas Ordinance Regulations apply, and that these regulations may limit development actions in the critical areas and in the buffers. Landowners must provide copies of the recorded documents to your local building/planning department before any development permits can be issued for the site. A small fee may be required for recording these documents.
3. An engineering analysis by an Architect or licensed Engineer may be required.
4. Additional engineered drawings, sections, details and structural plans may be required.
5. Other items may be required, depending on the specific project and/or whether it is located in a hazard area.
6. An application will be reviewed by the Fire Protection Unit of your local building/planning department, for conformance to provisions of the Building Code Adoption Ordinance. Fire Protection Unit staff will conduct a site inspection to verify conformance with the Fire Code access and fire flow requirements for new houses and extensive remodels.
7. A residential sprinkler system may be required if a site does not meet Fire Code access standards or fireflow requirements. Note that all residences designed to comply with the IBC shall be fire sprinklered throughout.
8. The use of appropriate erosion control practices is required during construction to protect county drainage systems and adjacent properties. These controls must be in place before site preparation or construction and must be properly maintained during the entire construction process.
Official intake form
King County use a green form to keep track of whether you have met the criteria for the official submission. Here are the forms with their various notes.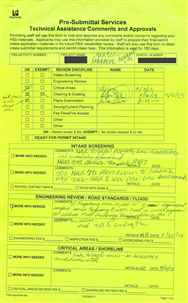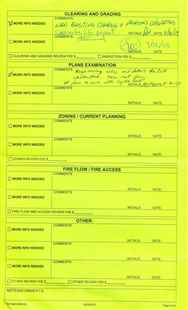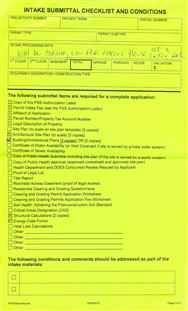 There may be more requirements
The information noted above is not all-inclusive of what may be required for a building permit application. Because each project and site are different, additional information may be requested during the application process. You will obviously want to be as helpful as possible in providing any extra information that is requested.
Arrange an appointment
Once you have all your drawings and other info in order, and you have had a few pre-application discussions to find out information, then you ask your local building department for an "submission meeting". You can get this by just walking into their office. You may well fail the first one of these, but at least you will come away with a list of things you need to do. You typically only pay the permit fee once you have been approved in the submission meeting. The things you need to do will likely be noted on your submittal form.
In my case I was able to get a clearing and grading permit approved ahead of the approval of the actual house build permit. This was very useful because it allowed me to get started even though the process of getting the necessary structural engineering done was long.
Permit costs
Note that the following bill does not include fees such as school fees.